My Toastmasters Journey (so far!)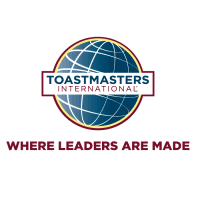 You might have already guessed this, but it was VMUG who put me on to Toastmasters. When VMUG announced that they'd secured a bunch of Toastmasters memberships for members who wanted to improve their speaking skills, I figured that I had nothing to lose. I'd spoken at VMUGs previously and I was a VMUG Leader, soon to join the Board of Directors, so it made sense to me to take steps to improve my oratory skills. After all, I figured that it wouldn't be too difficult for me to get better than my self-assessment of 'awful!'
That First Meeting
The Toastmasters website showed me that there were a few Toastmasters clubs around me, but the first one I chose to visit was Worthing Speakers Club. They met on a night which was convenient for both myself and my better half, so we went along to see what this was all about, without really knowing much about the Toastmasters organisation or how it worked. We were both made very welcome, given some information about both the club and the wider Toastmasters organisation and before we knew it, the meeting got underway. I was talking sooner than I had expected, since there's a warm-up early on in proceedings, where everyone gets the chance to simply stand up and talk for 15 seconds in response to a set topic or question. OK, I can do that, only 15 seconds! So I did it - and I was off and running.
During a quick break in that first meeting, I was asked if I would take part in something called "Table Topics". All I knew was that I would need to go up to the front this time and talk for 1-2 minutes, with no preparation. A little more intimidating, but in for a penny, in for a pound, I said yes. Again, this was in the form of a question, but given the longer duration, I was advised to try to have a start, a middle and an end to what I was going to say. The question I had to answer was something along the lines of "where in the world would you go back to if you could go somewhere right now". I'd not long been back in the country from spending a week working in the US and I'd spent a day "bumming around in Boston" as I described it, so that seemed a logical choice. It was pretty daunting standing up there, but by the time I had said where I wanted to go, explained why I'd been there for a day recently, shared why I liked it, my time was running out and I could get off stage. Phew! I survived.
The fact that I'd jumped in with both feet and spoken twice on my first visit elicited some positive feedback from the clearly much more experienced members of the club, which was nice to receive. Everyone there that night was so friendly, so honest about themselves and so encouraging about my contribution that I'd resolved to join before I left the room that night. Having another meeting to turn up before I committed myself longer term was a luxury, but I was ready to sign up and didn't need to go see what any other clubs might do differently.
Pathways
There's a lot of structure in Toastmasters, some of the behaviour appears almost ritualistic - in a good way, I might add! Before I went to my first meeting, I had an impression in my head of someone in a fancy outfit, brandishing a gavel, addressing a room in an after dinner speech sort of style. That's so far away from the truth that it taught me a little about forming pre-conceptions.
As I soon worked out, all of the structure is put in place to make the speaker feel at ease, from handing them control of the stage, through helping them time their speech delivery to constructive criticism after every time someone says something. The first things I got up to as a Toastmasters member were low pressure roles to help the meetings progress, such as timekeeper (lighting 'traffic lights' to tell speakers how long they've got left to go and then going up to report on how long people spoke for) and opening the meeting ("hello, turn off your phone, the fire exit is this way, the toilets are that way"). Then it was time to start thinking about delivering my first proper speech. This is called your Icebreaker, as it's generally a simple introduction where you just talk about what you know best - yourself! My topic was 'VMUG for vMuggles' in which I explained VMUG to a bunch of Toastmasters and drew some similarities between the two organisations.
These days at Toastmasters, you need to select a 'Pathway' to follow, working through primarily online content, to deliver a set of speeches from your initial Icebreaker through to more complex research tasks up to full-blown projects. There's also mentoring roles which you can undertake after a while, along with the opportunity to serve on your Club Committee, or even on a regional, national or global part of the organisation later on. You can even compete in speech or speech evaluation contests if you so wish. Fancy being World Champion of Public Speaking, anyone? It's a thing.
There's a number of different Pathways to choose from and there's help to guide you towards options you might like. I picked Persuasive Influence (hey, I'm a Diplomacy Player after all) and I've been working my way through the projects, speeches and some of the other roles in the past year and a half.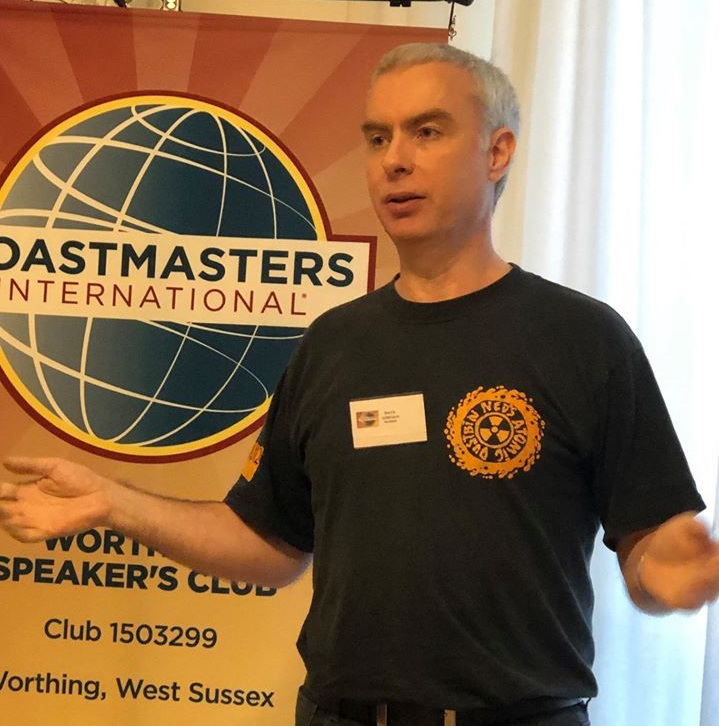 This has been quite tricky at times. I've spent a lot of time crafting speeches and practising them, so that I can generally deliver a seven minute speech without any notes or slides, which has meant memorising a lot of dates and facts sometimes (totally my choice to do this, I seem to like making my own life difficult).
I've been the Toastmaster at a meeting too, the person who runs the whole meeting, introduces everyone and so on. That's fun. No pressure to actually deliver a speech, all the names and roles that you need are on the agenda, so you just have to do a few links, shake a few hands and not talk for too long. That was a role which I initially felt was simply daunting, but after a bit of experience, I realised that it was just a number of short speeches, kind of like a mix between the warm-up and table topics, both of which I could do. I've also evaluated other Toastmasters, which for me is the hardest part of the Toastmasters experience. Not only do you have to talk, with some structure, but you need to feed back praise and constructive criticism to someone who's spoken not long before you. This is vital though, the whole point of Toastmasters is that they evaluate everything, to help the role holder improve.
The good thing about all of this is that you can find your own favourite roles or tasks, challenge yourself when you want, or don't. There's no pressure, no timeline that you have to meet, other than maybe your own drive to progress!
Confidence
I've gained a lot of confidence doing all this public speaking and now I simply won't turn down an opportunity to talk, be it something planned or something ad-hoc. I've spoken at London VMUG, served as Kev Johnson's warm-up man at the London vSphere Upgrade Roadshow and have spoken at the VMUG Leader Gathering at VMworld Europe in the past few months.
The last Toastmasters meeting I was at, I discovered that two people who were set to talk that night could not make it, so I volunteered to deliver a speech which I was planning to do 2 weeks later. This was a bit of a surprise, but why not challenge myself? I was able to step up because the speech was a storytelling assignment, something that I could just recount from my experiences - I'm a Diplomacy player and I had some tales to tell…
I would recommend Toastmasters to anyone who needs to present anything currently, or thinks that they might have to present something in the future, which is pretty much everyone! If you're a VMUG member and have not yet spoken at your local chapter meeting, then all I would suggest is that you take a look at the list of people who have presented at your VMUG and see how their careers have progressed, then ask yourself if you would like to do the same thing.
I was partly inspired to take up public speaking having heard a speech by Frank Denneman at a London VMUG where he ventured that most people were more frightened of public speaking than the prospect of their own death. Frank then went on to talk about some of his tips and experiences - it was a great speech and I've thought back to it often. If you heard my initial ten minute vFactor speech which I delivered at London VMUG a few years back, you may recall that I overran. I still do that now, I seem to find that delivering a speech in just seven minutes is quite hard! Maybe I should prepare four minutes and then just pad it out on the day, or simply talk slower? As I am happy to admit, I still have a lot to learn and I need more practice, but I'm now at the point where I'm genuinely having fun doing this. Maybe you will too? Go on, surprise yourself…
Mid-February Update!
I appear to have just joined the Worthing Speakers Club Committee, serving as their Sergeant at Arms. Oh boy, here we go again!