LonVMUG, vBeers and a vCurry!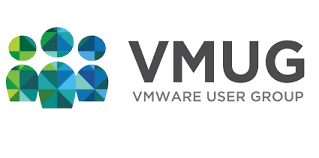 Wow! I nearly didn't make it. A particularly "late one at the office" the night before saw me get to bed just short of 4am, with the prospect of a couple of hours train journey for a 9 something LonVMUG start. So, forget all about starting the day at 6am then.
The late start to the day turned out to be particularly gutting as the Twitter chat around the event pretty much ceased whilst Frank Dennerman was doing his presentation, so I was pretty miffed that I didn't catch it live as it was obviously getting everyone's attention. Fortunately, this was the first LonVMUG where all the presentations from the day were uploaded to the Box  before the event was over (wonders will never cease!) so I will be able to review this over the coming days.
At least I was able to fill out the LonVMUG attendee survey on the train up to the event, so I felt like I was taking part even before I arrived. Very funny survey by the way. I eventually got to the Chamber of Commerce just in time for lunch - and just before everyone else got out of their presentations, so I had first run at the chips. Result. Pretty good food at these things - and this time, Cake. Not as good as my wife makes though (In case she somehow reads this).
Pretty much the first person I saw whilst I was stuffing my face was Dale who'd been in setting up XenDesktop for us only a week or 2 before, so we were able to share a bit of a chat about how that was going, my 1 user is very happy, it seems. Then a run around the vendors to pick up the info and enter the draws for the swag and it was time to go and and actually learn something.
First up for me then, was the Atlantis Computing's ILIO sponsor preso, which was something totally new to me.  Turns out that the biggest VDI deployment in the world runs on this, so it has to be worth considering. If you want to take ESX host memory and re-present most of it back to your host as disk for your VDI estate, with dedupe and memory-speed / IOPS advantages, then this is probably the tool for you. Being VMUG this was all about VMware, but they cover Citrix too. Slick presentation, a live demo and a reference customer to talk about it too. nice!
Then on a VDI continuation tip, it was time to listen to the Xtravirt boys talk about a 4000 seat VDI experience. Xtravirt are strong supporters of the LonVMUG, they've had someone doing a talk at every VMUG I've attended and they're usually informative and entertaining. Glad to say that Seb and Grant didn't let us down, I learn a few things from both them and the audience, which was just what I wanted.
Finally from an event point of view, was Julian Wood's VDI Roundtable. There's a common thread here, no? That put about a dozen of us in a room behind a closed door to talk anything VDI. We had a mix of VMware, partners, end users which really helped. This was an excellent hour and I felt that this could have gone on for a lot longer than it did, as we'd only really just got going when the call came to close up. Slightly reassured that I was doing the right thing with VDI, I headed back off to the main hall with everyone else for the wrap-up.
As previously stated, the wrap had the announcement of all the sessions being available and an announcement about the VMUG Advantage offering was also made. The survey results were rounded up, LonVMUG having a Mike Laverick fascination is about all I can remember from that. Then the giveaways. Win!! I get granted a year subscription to the aforementioned VMUG advantage. As one of the very small number of people in the room who actually HAS one of these, it seemed the right thing to do to give it back, but then I realised I only had a few weeks left, so it's mine to keep. So definitely worth getting out of bed. I'll do a blog post on VMUG Advantage at some point, as I really like it as a concept.
Then vBeers, the bit which seems less optional every time I go, you learn as much at the "aftershow" as you do at the main event. With well over a dozen vExperts at this VMUG, how could I go wrong? Good times, plenty of chat, a few beers and a round up for a vCurry as well. Very good. But I got home late, vLate, vTired etc. next up the UK VMUG in November, I hope to make that this year.
Top 3 terms you may not know, but wish you'd invented…
#HansFree
vLady
vMuggle